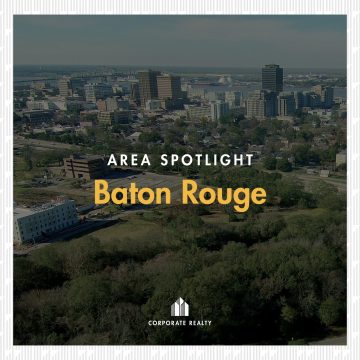 Corporate Realty has an enduring relationship with Baton Rouge. Ever since our company's founding, but especially over the past twenty years, we have prepared market strategies, managed developments, represented commercial properties for lease and sale, and taken on property management assignments. The Capital City is a dynamic area with a rich history that plays an integral role in our region's economic development and success, and we are pleased to play a part in that.
The Corporate Realty team has come to embrace the city and community—and found some favorite restaurants and places. Let it ever be said, while commercial real estate is our business, food is our passion. 
There is ample opportunity for retail development and growth in Baton Rouge. Richard Weber, one of our members of the retail team, said having a full comprehension of the city, state, and region is important. This does mean identifying and visiting retail locations that would work for the client. It also includes supporting local concepts and introducing others to local cuisine, which not only enforces the local atmosphere but provides an enjoyable way to build relationships.  
"Site selection visits can involve a couple of really full days on the road," Weber said. "It helps to know local specialties, and it's fun to share local restaurants with out-of-town clients. This is part of the experience for our clients as they get to know the areas where they are considering expansion." 
For many years, he and colleague Jonathan Fawer have worked with clients to find locations for Starbucks, Aldi, Discount Tire, Costco, Chipotle, Five Below, and more. One of the  favorite places they like to take clients for lunch when in the Baton Rouge area is City Pork. This local staple has multiple convenient locations that serve up mouth-watering sandwiches and sides as well as unique dishes like pork debris spring rolls, wild boar flautas, and rabbit and dumplings. 
Donna Whalen is an agent who specializes in tenant representation and also represents the subleases of 5551 Corporate Boulevard, which is an entire third floor of a centrally located office building, and 8440 Jefferson Highway, a fully furnished and contemporary work environment. She will often drive up for the day with detailed market surveys to meet clients for touring properties, taking them to lunch at Albasha Greek and Lebanese Restaurant. And always, before heading back to New Orleans, she stops at Calvin's Bocage Market for the Legendary Chicken Salad. This local market on Jefferson Highway is well known for its homemade chicken salad, and Donna often takes a container (or five!) with her. 
"The brokerage community is very cooperative, working together for the good of the business community," she said. "I always enjoy having an opportunity to partner with our colleagues from Baton Rouge."
Another office leasing agent and tenant representative, Randall R. White, also frequently travels back and forth between the two cities for work. He enjoys the fresh seafood at Beausoleil Coastal Cuisine; as an oyster lover, one of his favorite dishes is the Truffled Fried Oysters. However, he is excited about the reopening of Juban's Restaurant and Bar, which is scheduled for this April. Shut down since the pandemic, the beloved Baton Rouge institution has undergone renovations but will still feature its popular Atrium Bar and the Hallelujah crab. 
Terry Nunez, one of the company's property managers, drives up to Baton Rouge once a week to check on Florline Commons, a shopping center near the site of the now-under-construction Amazon fulfillment center. Terry's duties involve meeting with tenants, arranging repairs, and generally overseeing that the property remains in tiptop shape. 
"When I go up there, I love to eat at Bistro Byronz," Terry said. "This family neighborhood restaurant has several locations and does hot meals and salads, as well as really great sandwiches. The chicken paillard is my favorite, with a grilled chicken breast and special combo sauce."
Emily Kramer, another retail  leasing agent, has been representing retail sites and conducting site locations throughout the city for twenty years, with current assignments including a retail center on Millerville Road near I-12 and a retail development site on Staring Lane near Perkins Road. She loves treating clients at Parrain's Seafood, where they enjoy crab fingers, gumbo, and seared tuna steaks. One recent out-of-state client was particularly impressed by Emily's knowledge of the city, commenting at the end of a tour how he didn't think that someone who lived in New Orleans would be able to drive him around Baton Rouge without once consulting a map. 
Corporate Realty's headquarters may be in New Orleans, but our familiarity with Baton Rouge is indisputable. We pride ourselves on our comprehensive market knowledge and competitive analyses, providing the most accurate information and enabling economic development. Most importantly, however, we value the relationships we have established with clients who have become friends over the past years. Please let us know if we can partner with you in your commercial real estate needs, whether in Baton Rouge, New Orleans, or any other place. 
To learn how Corporate Realty can assist with your commercial real estate needs, please contact 504.581.5005 and info@corp-realty.com.