We connect landlords and tenants in the Gulf South.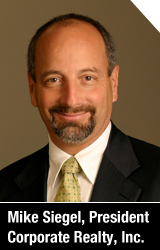 Experienced Commercial Real Estate Agency Serving New Orleans and the Gulf South
Welcome to Corporate Realty! We are a full-service commercial real estate agency headquartered in New Orleans. We serve businesses in the entire Gulf South area, including Louisiana, Alabama, Mississippi, and Texas.

We are here to help with all your commercial real estate needs. We offer a number of services, including tenant and landlord representation for office, retail, and industrial transactions, investment brokerage, property management services for building owners, as well as client support services, including construction consulting and supervision, development services, and engineering support. Whether you are looking for an opinion on the value of a property, information on a specific geographic market, assistance with financing or re-developing a property, tenant representation, or office space, New Orleans area businesses know we're here to help with their commercial real estate needs.
You can trust our friendly, professional staff members to find a solution for your company, no matter how complex your needs. Seventeen of our seventy-five employees are active, full-time commercial agents, but every one of our staff members is an expert on the ins and outs of the business. Our agents have more than 100 years of combined experience, and we are consistently involved in the largest, most complex, and most demanding real estate brokerage transactions in the region.
Corporate Realty, Inc. is the commercial real estate agency of choice for businesses in the Gulf South. Contact us today at 504-581-5005 to find out how we can help your company!