Real estate is our business, but food is our passion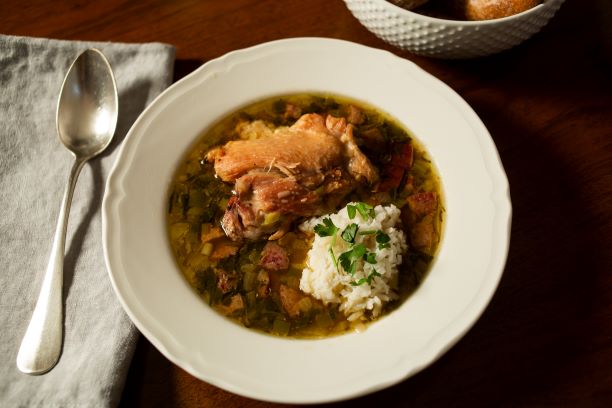 Families in New Orleans have been passing down recipes from one generation to the next; in fact, many of New Orleans's most iconic dishes were created in the home. If there's one thing New Orleans knows best, it's home-cooked talent. As does Corporate Realty: with the same care and attention we show to our clients and properties, we also treat our food. Real estate is our business, but food is our passion—and for 2020, we share that passion with you as we celebrate the many talented cooks under our own roof. From our favorite gumbo to our treasured chocolate chip cookies, we're inviting you to join us at our table.   
Recipe Archive
Over the years, Corporate Realty has featured many great Louisiana recipes and food items. Search below to find old favorites and discover new classics.
2020: Home-cooked Talent
Michael Siegel's Chicken & Sausage Filé Gumbo
Bennett Davis' Butternut Squash Soup
Randy White's Lobster Risotto
Jeanne Booth's White Beans & Shrimp
Jonathan Fawer's Braised Short Ribs with Mac N' Cheese
Scott Graf's Barbecue Shrimp
Rodney Brown's Chicken Marengo
Richard Weber's Spatchcock Chicken with Chimichurri
Andrea Huseman's Chocolate Chip Cookies
Donna Whalen Little's Crawfish Enchiladas
2019: Donald Link Restaurants
2017: Eat Oysters, Lease Longer
2016: Chasing Leah
2015: Conversations with Ella
2014: Tour of Magazine St.
Dominique's Wagyu Beef Tartar with Avocado Crème Fraîche
Coquette's Shrimp and Grits
Bistro Daisy's Oysters Poached in Herbsaint Cream
Juan's Flying Burrito's Steak Fajitas
Clancy's Lemon Ice Box Pie
Joey K's Shrimp Magazine
Martinique Bistro's Gulf Oyster and Housemade Tasso Tourtière
Casamento's Oyster Stew
Lilette's Chilled Sweet Corn Broth with Jumbo Lump Crabmeat and Avocado
2013: Corporate Realty Re: Vieux