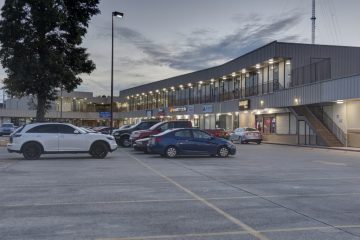 Corporate Realty is pleased to announce that West Bank shopping center Azalea Plaza is now both leased and managed by Corporate Realty.
Andrea A. Huseman, CCIM, and William Sadler are the leasing agents for the 68,885-sf, open-air shopping center located at 3701 General De Gaulle Drive. Michael Schilling is the property manager.
This two-story mixed-use retail center features restaurants, stores, personal services, and offices and includes co-tenants Chuck E. Cheese and Common Ground Health Clinic. Currently there are nine vacant spaces ranging in size from 904 sf to 8,025 sf, and there is a great opportunity for listing on pylon signage. Azalea Plaza, which is located along a bustling commercial thoroughfare in the heart of the Algiers neighborhood, is conveniently adjacent to banks, shops, restaurants, medical, homes, and more.  It is only a few short blocks from New Orleans' first planned free-standing Chick-fil-A restaurant that will be coming.
In overseeing both leasing and property management efforts, Corporate Realty will be able to create a cohesive approach for marketing as well as maintaining and upgrading the retail center.
"This is an exciting opportunity to really emphasize Azalea Plaza as a key retail center along a key commercial corridor on the West Bank. We are in an enviable position of intimately knowing this center and can best speak to and showcase its strengths, and we look forward to seeing these positive results in the near future," Andrea said.
For more information about leasing opportunities at Azalea Plaza, please contact Andrea A. Huseman at 504.587.1450 and ahuseman@corp-realty.com or William Sadler at 504.581.5005 and wsadler@corp-realty.com. To learn how Corporate Realty can assist with your full-service commercial real estate needs, please contact 504.581.5005 and info@corp-realty.com