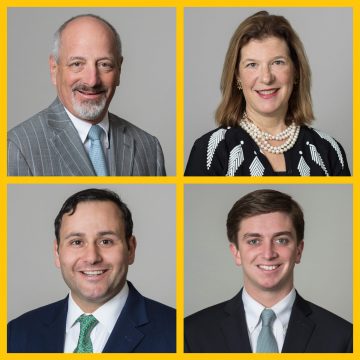 The Commercial Investment Division (CID) of New Orleans Metropolitan Association of Realtors (NOMAR) hosted its annual awards ceremony on April 7, 2022, and Corporate Realty agents were recognized for their 2021 contributions.
This year the organization included a Deal of the Year recognition, which was selected by an independent blue-ribbon committee. Michael J. Siegel, SIOR, President of Corporate Realty, and Barry Spizer, CCIM, Founder and Managing Partner of SRSA, earned this recognition for their roles in Tulane University's lease of the former Charity Hospital building at 1532 Tulane Ave. Mike represented Tulane University in this transaction and Barry represented the landlord. The redevelopment of Charity serves as further commitment to investing in New Orleans and especially its downtown medical campus.
In addition, three other Corporate Realty team members received recognition for their production efforts in the past year. Andrea Arons Huseman, CCIM, was recognized as Platinum Producer, Austin Lavin, CCIM, was recognized as Gold Producer, and William Sadler, also a first-year CID board member, was recognized as Silver Producer. Platinum winners have a production total of $10,000,000 to $14,999,999 million.  Gold winners have a production total of $5 million to $9,999,999, and Silver winners have a production total of $2,500,000 to $4,999,999.
Corporate Realty congratulates all the winners. We are pleased to serve with such a distinguished group of industry colleagues.