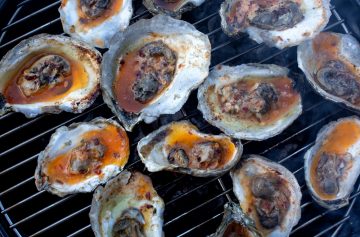 When President Tania Tetlow, J.D., began discussing her ideal last meal, there was no idea that a last meal of sorts would be upon her in a few short months. The New Orleans native who is the first woman and non-Jesuit president of Loyola University New Orleans becomes the first laywoman president of the 181-year-old Fordham University in New York this summer. 
We think her idea of a meal featuring favorite dishes created by Chef Donald Link and including special family and friends is incredibly meaningful in this instance. "I love Donald Link's cooking more than I can say, and this is an assortment of my favorites," she said as she discussed delectable dishes like spaghetti with guanciale and a fried poached egg, redfish on the half shell, and pineapple upside down cake. The starter would be a quintessential New Orleans specialty, Cochon's Grilled Oysters with Garlic-Chili Butter, which we share as the featured recipe. We hope she will enjoy some more good meals before she moves to New York, and we wish her all the best in this new endeavor. 
For other Corporate Realty recipes, visit our site. To find out more about how Corporate Realty can assist you with your commercial real estate needs, please contact info@corp-realty.com or 504.581.5005.