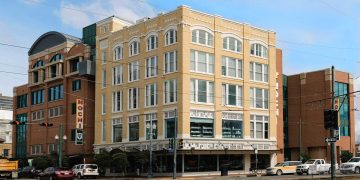 The New Orleans-based Twisted Waffles has relocated to the ground floor café space at the New Orleans Culinary and Hospitality Institute (NOCHI). Corporate Realty's Scott Graf, CCIM, and Austin Lavin, CCIM, represented NOCHI in this new partnership.
Located at 725 Howard St at the corner of Carondelet St, the NOCHI building is on the downtown St. Charles streetcar line and within walking distance of numerous museums, hotels, and offices. It is a convenient nexus of Uptown and Downtown New Orleans. The 3,000 sf turn-key restaurant that Twisted Waffles is taking over features a fully outfitted, open kitchen, a bar, and seating for 60+ people. 
Twisted Waffles started up three years ago in ground floor retail space at the Saulet Apartments at 1420 Annunciation St. Not only do they create specialty waffles, but also they serve all-day breakfast and provide savory lunch dishes like sandwiches and burgers. Twisted Waffles opened a new location in New Iberia, and, according to the restaurant's press release, are thrilled to be moving into the larger location at NOCHI to be able to better serve clients. 
NOCHI is a 501(c)3 nonprofit organization dedicated to educating, diversifying, and sustaining the ever-evolving hospitality industry. Austin said it was important to the organization to find a restaurateur to serve as a partner in the organization's community vision. 
"We're excited to bring Twisted Waffles to the NOCHI building," said Austin Lavin. "We know that they will complement NOCHI's programming and that NOCHI will serve as a platform for this growing business as they continue to thrive."
We are pleased that Twisted Waffles is now open in the new space. To learn how Corporate Realty can assist with your commercial real estate needs, please contact Austin at alavin@corp-realty.com and Scott at sgraf@corp-realty.com and 504.581.5005.