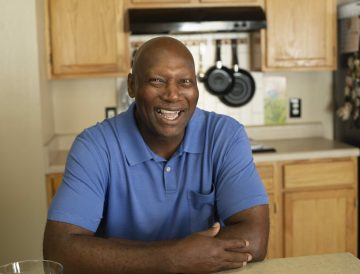 Rodney Brown remembers the first time he tasted oyster dressing. He was a new engineer working for Corporate Realty at one of the buildings the company managed at that time, and the engineering teams from all the buildings gathered to cook their annual holiday dinner. He was surprised that a fishy-tasting oyster-and-bread dressing was part of the menu—but, he liked it. "If I taste it, and it's good, I'll try it again," he said.
For almost four decades, Rodney has been part of the Corporate Realty family, sharing meals and working at properties throughout the city. He is currently the Chief Engineer at the New Orleans Union Passenger Terminal, the intermodal facility located at 1001 Loyola Ave. The Union Passenger Terminal, which opened in 1954, serves as a transportation hub for Amtrak, Greyhound, and Megabus. Corporate Realty manages the property, and Rodney and his team oversee daily facilities maintenance, from lighting to air conditioning. Over the years he has come to know what to expect, recognizing seasonal changes and visitor needs in the decades-old two-story building. "This station is like my second home," Rodney said, adding that he loves the people, and he loves being able to take care of it.
Another love of Rodney's is cooking. Rodney developed this interest as he and his wife started a family. Similar to the oyster dressing experience, he would try anything once; if they liked it, he would try it again. One resulting favorite is this month's featured Chicken Marengo. According to food history, Napoleon's chef threw together the dish with ingredients he could find after Napoleon won a battle near Marengo; regardless, it can be made with ingredients on hand to provide a satisfying meal. And while Rodney has long been the cook, his children have recently asked to learn, which he enjoys sharing.
Rodney said the desire to learn has to be matched by someone with a desire to teach. He joined Corporate Realty, formerly the Westminster Management Group, as a security guard, but his interest in both the people and the buildings led to his supervisors encouraging him to  become an engineer. He studied and learned from mentors-turned-friends like John Reed, Director of Engineering, who has been with the company for almost fifty years and whose careful explanations helped Rodney not only learn how to fix the problem but to understand the entire mechanical system.
"You need someone to encourage you, to give you a sense of hope and belief in yourself," Rodney said. "That is what really is important, at any time."
 For more Corporate Realty recipes, visit here.