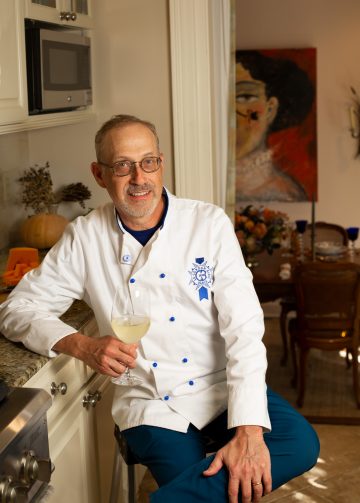 As we get ready to set our tables for holiday dinners this year, we are reminded of meals past. Our tables may well look different this year. Maybe we will be eating with familiar faces again, but we could also be creating new traditions and new dishes..
Bennett Davis' butternut squash soup is an ideal recipe for this time. This simple and delicious dish is both good as a starter or as a meal all in itself. "It is the taste of the holiday season," Bennett said.
Bennett and his wife like to entertain. For them, an ideal dinner group involves up to ten people, which encourages both a single stimulating conversation that can be enjoyed by the whole table as well as the smaller conversations. He frequently prepares and serves the butternut squash soup as a starter. The soup makes a stunning first impression for the meal and sets the tone for a vibrant evening. "We enjoy lots of good times, good laughs, good conversation, and excellent wine," Bennett said.
Bennett is a broker associate who, for more than thirty years, has specialized in office leasing and sales in both tenant and landlord representation. Currently he is the leasing director for Place St. Charles, a one-million square foot Class A office building in downtown New Orleans that he brought from 72 percent to 96 percent leased. To Bennett, leasing agents are critical to setting the tone of the building that they represent to prospective and renewing tenants.
"We're the first impression people get of the building, of its inner workings, and of how the staff operates. It's important to connect with people and build relationships from the very first meeting," Bennett said.
We hope your holiday will be filled with celebrating relationships and lots of good times, as well as the joy of trying out this recipe.  Wishing you a happy, healthy new year.
To find out more about how Corporate Realty can assist you with your commercial real estate needs, please contact info@corp-realty.com or 504.581.5005. For other Corporate Realty recipes, visit here.