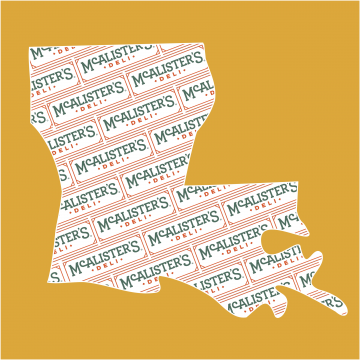 Sun Holdings, Inc., is a franchise organization founded by mega multi-unit operator Guillermo Perales. The company has acquired 51 existing McAlister's locations in Texas, Florida, New Mexico, and Louisiana, and will develop 47 restaurants over the next seven years. To begin that expansion in Louisiana, the company approached Corporate Realty. Jonathan Fawer, William Sadler, and Richard Weber, Jr have teamed up to help in the site selection. 
Currently there are sixteen locations in Louisiana. The first new McAlister's in the state has opened in Lake Charles near Prien Lake Mall, a regional mall that serves more than 340,000 people and is highly visible from I-210. A former Hardee's that underwent renovations, the stand-alone restaurant at 306 W Prien Lake Rd includes both a dine-in area and a drive-up window.  
"Sun Holdings is committed to business expansion and customer happiness, which Corporate Realty also prioritizes," Fawer said. "We are pleased to be working with Sun Holdings in expanding McAlister's Delis throughout our state."
For more information about how Corporate Realty can assist with your retail commercial real estate needs, please contact Jonathan at jfawer@corp-realty.com, William at wsadler@corp-realty.com, and Richard at rweber@corp-realty.com and 504.581.5005.