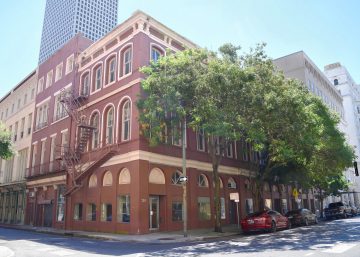 This  two-building, 22,034-sf complex is a strategic investment opportunity in the heart of downtown New Orleans. Located on a 4,233-sf corner parcel at Baronne and Union streets in the Central Business District, this property is centrally situated in the midst of Class A office towers, hotels, restaurants, the federal and state courthouses, and City Hall. It is also in close proximity to major new developments, including the Virgin Hotel and highly desirable South Market as well as the upcoming Caesars Hotel expansion. 
330-342 Baronne St is a three-story, 11,364-sf building constructed on a 3,854-sf site. The building most recently housed ground floor commercial spaces and offices/apartments on the second and third floors.
838-840 Union St is a four-story, 10,670-sf building constructed on a 3,797-sf site. The first floor was previously a restaurant, while the upper floors were used as office space.
This is an exceptional historic structure dynamically positioned for redeveloping into short-term rentals or traditional multi-family units. It qualifies for several economic incentives, including state and federal historic tax credits, and is located in an Opportunity Zone. 
Should you have any further interest or questions, please see our marketing information or contact the following:
Michael J. Siegel, SIOR
msiegel@corp-realty.com | 504.615.5390
wsadler@corp-realty.com | 912.713.0828
Jcohn@corp-realty.com | 504.312.2662
For more information on how Corporate Realty can assist with your real estate needs, please contact info@corp-realty.com and 504.581.5005.