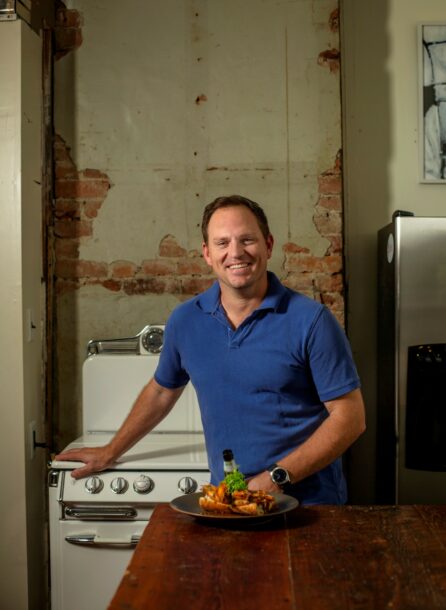 Leasing agent Scott Graf grew up in New Orleans, hunting and fishing and doing all the things that come along with those kills and catches. It was his skill at fileting fish that landed him his first restaurant job as a fish cutter in a sushi restaurant in Boulder, CO, when attending college. For six hours each shift, he worked his way through fish flown in from Hawaii, preparing it for the chefs to use in making sushi and sashimi. He eventually managed the restaurant, which started him on his first career as a professional chef and took him from Boulder to San Francisco, and finally home to New Orleans. He helped to write a cookbook, cooked at the illustrious James Beard House, and developed menus that included farm-to-table dishes and gastropub fare for a restaurant group in San Francisco. 
While working with the restaurant group, Scott gained some experience with commercial real estate. He scouted locations, envisioning bustling restaurants with functional kitchens from empty garages and other stripped bare interiors, and negotiated leases and terms for those spaces. Armed with that knowledge, as well as the realization he could still help serve the restaurant community, Scott chose commercial real estate as his next career, with one of his areas consisting of restaurant-related transactions.  
"I've been in the trenches, and I have the scars on my arms to prove it," Scott said. "I know (the chefs') language, and what they are looking for."
New Orleans has more than 1,400 sit-down restaurants; pre-coronavirus, about 7% of those would fail every year. Scott works to fill those spaces with people who have visions, bringing their culinary skills to what is arguably one of the top five food cities in the United States.
Scott and his family enjoy sampling all the different restaurants, but today his cooking is for family and friends—in fact, he's most likely to have been invited to friends' house for a meal that he will prepare. That dinner could involve chanterelles he dug out of the swamp, crabs fresh out of the water set aside at a local fish supplier, or ducks from a hunting trip. It also may well be this month's featured recipe, Barbecue Shrimp. While he uses Louisiana shrimp and other local ingredients, Scott learned the technique for making the stock from a fellow chef in the Bay Area. The result is a refined but crowd-pleasing meal that he has often dished up, either with garlic bread or grits and a cold beer.
At the heart of it, Scott says, both commercial real estate and cooking are all about the people.
"I love making food for people and watching them enjoy it," Scott said. "It's the same with commercial real estate; this is a service business, and at the end of the day I enjoy helping and serving people." 
For other featured recipes in Corporate Realty's collection, please visit here.