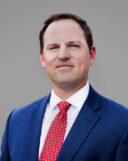 Scott Graf, CCIM
Sales and Leasing Associate
Scott joined Corporate Realty in 2019 as a Sales and Leasing Associate. He represents the Energy Centre, a 761,500 sf Class A office tower in the heart of the New Orleans Central Business District. He also represents part of The Feil Organization's portfolio in Metairie. This portfolio consists of more than one million square feet of office space located in the Galleria, Causeway Plaza and 3445 N. Causeway Boulevard. In addition, Scott helps office tenants and other landlords achieve their real estate goals.
He began his career in commercial real estate at Coldwell Banker Commercial in 2013. At Coldwell Banker Commercial, he represented the landlords of more than 800,000 sf of office space and completed more than 150 transactions in his first three years. 
Prior to working in commercial real estate, Scott was a chef in San Francisco, Boulder, and New Orleans. He helped to produce a New York Times Notable Cookbook and was fortunate to cook at the coveted James Beard House, a center for the culinary arts managed by the James Beard Foundation. He applies this knowledge of the hospitality industry to help restaurants, bars, and other food and beverage related businesses seeking commercial space.  
Scott obtained his CCIM designation in 2016 and has been active on the board of directors for the Louisiana Chapter. He was recognized as the top-ranked Coldwell Banker Commercial agent in the state of Louisiana in 2017 and 2018 and honored with the 2018 Money Makers Award by New Orleans CityBusiness, as well as of the 2019 Reader Rankings top commercial real estate agents. 
Scott is a New Orleans native and attended St. Martin's Episcopal School and De La Salle High School. He graduated from San Francisco State University, a part of the California State University System. He is a member of the Krewe of Thoth and attends St. Charles Avenue Presbyterian Church. He lives in the Riverbend neighborhood of New Orleans with his wife, Vanessa, and their two boys, Clark and Weber.