As a full-service commercial real estate company specializing in office and retail leasing and sales, investment brokerage, development, and property management, our agents and managers work diligently behind the scenes to provide our clients with a simple and seamless experience that exceeds every expectation. In addition to striving for excellence, we are committed to improving the communities in which we live and work through hands-on involvement and financial commitments. That synergy of quality, simplicity, and community is part of the foundation of how we do business at Corporate Realty.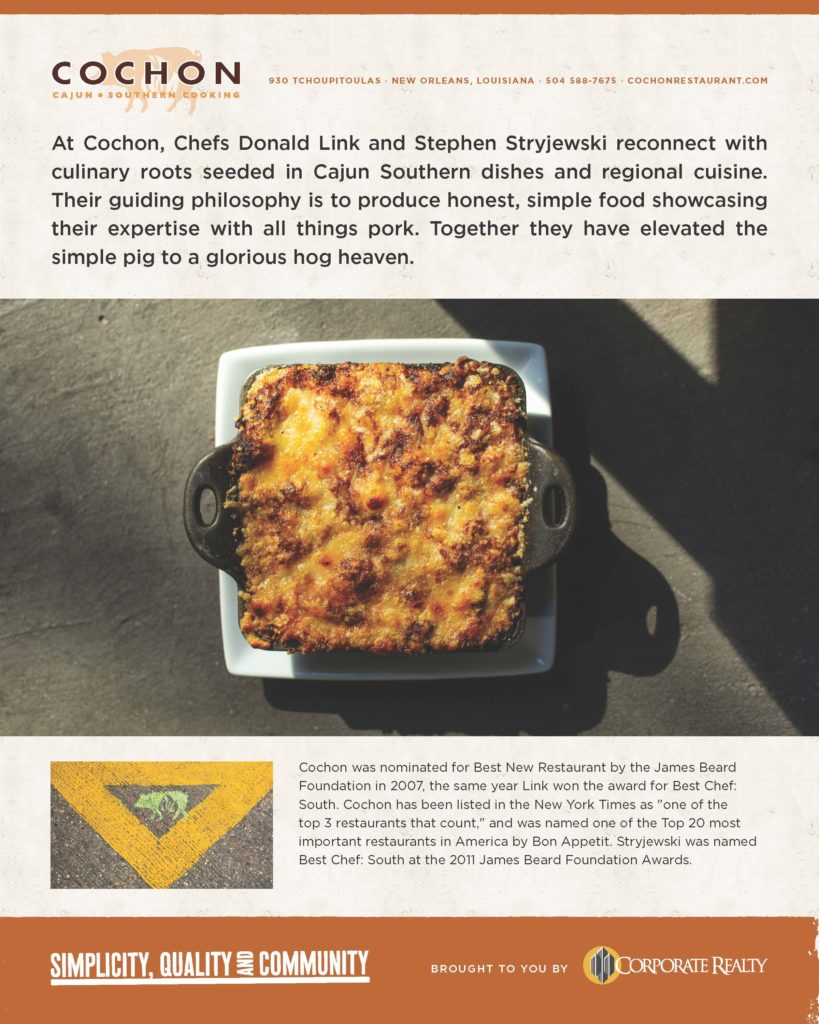 In 2019, Corporate Realty, Inc. is proud to partner with the Link Restaurant Group for our monthly mailers. Chefs Donald Link and Stephen Stryjewski strive to embrace the art of simplicity, with a dedication to using only the highest quality ingredients, coupled with a commitment to serving the community. To that end, they created the Link Stryjewski Foundation which helps to nourish and educate the youth of New Orleans empowering them to realize their potential and become active positive members of our community.
A tremendous amount of care is required to put together a complex real estate transaction and to create a memorable meal. Both Corporate Realty and the Link Restaurant Group make such an effort to ensure that we deliver quality solutions and products to our customers and clients. This year's monthly mailers, which can be found here on our website, highlight transactions and new assignments, and recipes from Donald Link's restaurants, including Herbsaint, Cochon, Cochon Butcher, Peche Seafood Grill and a few others.
This month we are proudly presenting Cochon's Eggplant + Shrimp Dressing
Enjoy!