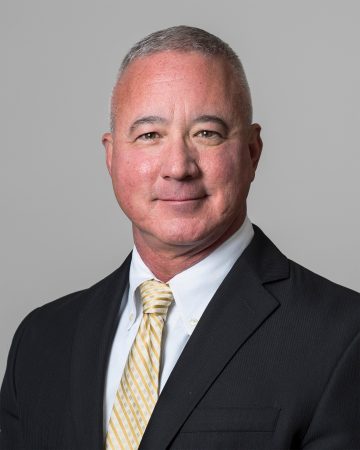 In addition to brokerage, property management is another comprehensive service that Corporate Realty offers to our clients. For this Employee Spotlight, we are pleased to recognize our senior property manager, Terry Nunez.
Property managers are the problem solvers of a building, or as Terry describes them, the "fix-it people." Terry is the primary point of contact for landlords, tenants, vendors, contractors, and engineers for a portfolio of properties. Whenever an issue needs to be addressed, property managers ensure it gets resolved as quickly and efficiently as possible. "Everything from the regular day-to-day problems to mitigating damage from hurricanes; we do it all," Terry said. 
Terry began work as a parking manager at the Superdome and soon found himself managing numerous parking garages around the city. He started his career in property management at 3501 and 3445 N. Causeway Blvd. Terry also worked with Cushman & Wakefield and Stirling Properties and managed all manner of buildings before joining the team at Corporate Realty in 2013.  
For Terry, the best part of his job are the relationships he has made over his career. "The people that we have met over time help us to solve any problem that we are presented with. We can call on each other whenever we need something and know they are going to have our backs," he said.
He also enjoys the daily challenges he faces in his profession. "No two days are the same, so it keeps things interesting and makes you stay sharp," Terry said.  
Family is "everything" to Terry, and he loves being able to spend time with his kids and grandkids; his second grandchild was born in July 2022, and he is ecstatic to be able to spoil her. Terry enjoys the outdoors, especially fishing and camping, and staying fit and healthy. Travel is also an important part of his life, and he particularly likes beaches. 
Born and raised in New Orleans, Terry has a deep love for the city. He attributes this to his family ties, the city's rich and interesting history, and its amazing food. His favorite meal is trout amandine with meunière sauce from Mandina's on Canal Street. He fondly remembers going with his grandpa every Tuesday for many years, and he still orders it every time he goes.  
Corporate Realty is extremely fortunate to have Terry on the team. Not only is he a major asset to the company, but he is also a genuine, considerate, and devoted co-worker. On behalf of the Corporate Realty team: thank you, Terry!