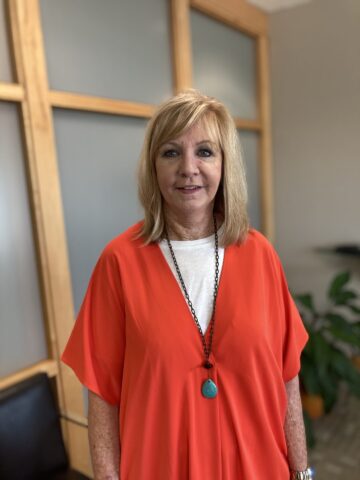 Corporate Realty has always been a team effort. To keep the company functioning as it does, brokers, property managers, and support staff have continuously needed to rely on each other. We would not be able to accomplish all that we do without the team members at Corporate Realty that make us what we are. This is why we are pleased to acknowledge Steffanie Stewart for this Employee Spotlight. 
Steff began her career at Corporate Realty 19 years ago. She managed the executive office suites at Place St. Charles for approximately two years before moving into overseeing licenses and commissions at the company. Steff is responsible for ensuring that all agents and brokers are in compliance with any licenses they hold and manages the commission structures and payments. Unsurprisingly for the daughter of a CPA, from a young age Steff found her niche working with numbers. She plays a crucial role at the company and supervises a great deal of the everyday particulars that keep Corporate Realty running.  
With her desk prominently located in the office's most-trafficked hallway, Steff is at the center of office activity. She can always be relied on to lend a hand and help someone. Her day-to-day interactions with everyone are her favorite thing about working at Corporate Realty. "I just like being around people, and they have to be nice to me because I make sure they get paid!" she said. Steff has a remarkable sense of humor and is always quick to make a clever joke. 
A native of Monroe, Louisiana, Steff lived in Austin for ten years after earning a degree in business from Northeast Louisiana University. While in Austin, she worked in the medical field where she managed an ophthalmology clinic as well as a Lasik eye center. Steff enjoyed the experience and found it rewarding to work with patients and be able to help people in need. 
Steff's favorite pastime—besides spending time with her 6-year-old shorkie, Susu—is travel. Her preferred destination is Harbor Island in The Bahamas, and she makes an effort to go every year. "It is beautiful, the people are so nice, and all the restaurants are good; I just love it," she said. Steff also enjoys tennis and is keeping an open mind about getting into pickleball.
 Like many of us, her favorite thing about New Orleans is the food. Steff is particularly partial to good Mexican dishes, especially fajitas, with a margarita. Her go-to restaurant in the city  is Santa Fe on Esplanade Avenue. 
 Corporate Realty is lucky to have Steff on the team. Her kindness, humor, and work ethic are deeply appreciated, and Steff's presence in the office is an amazing advantage for the company. Thank you for everything, Steff!