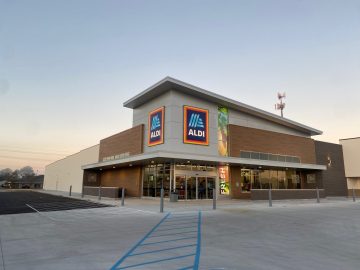 ALDI, one of the world's largest supermarket chains, is opening its first store in Louisiana with the grand opening on February 10, 2022, in Lafayette. Corporate Realty's Jonathan Fawer and Richard Weber, Jr have been actively working on site selections throughout Louisiana and parts of Mississippi.
The new 22,000-sf store is one of several locations that ALDI plans to open throughout the state in the following year, Fawer said. According to the company's website, Louisiana is the 38th state in which the supermarket will operate, offering its high-quality foods and other items at low prices with a customer-focused, quick-and-easy shopping experience. Learn more from the company's press release.
ALDI began initially in German, run by brothers who took over a local supermarket that their mother owned. It is rapidly expanding throughout the United States and has recently opened a distribution center in Loxley, Alabama.
"We are pleased to be working with ALDI," Fawer said. "This is an exciting opportunity to represent a company that provides quality products, from food to household essentials, at low prices."
For more information about how Corporate Realty can assist with your retail commercial real estate needs, please contact Jonathan at jfawer@corp-realty.com or Richard at rweber@corp-realty.com and 504.581.5005.