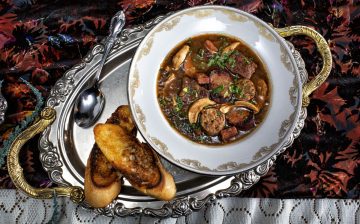 Edgar "Dook" Chase IV is the first person to be featured with his last meal. New Orleans is the city that put "fun" in funeral, and Dook wants to host a huge feast with loved ones. To get it started, he would serve his family's Creole Gumbo. 
"In my family, gumbo starts off every celebration, from holidays to repasts. It means there is a lot more food coming behind it and a very festive time ahead," he said. He had a smile on his face as he discussed his last meal, a feast for his favorite people. The gumbo would be followed by other favorite dishes like his family's famous fried chicken, greens, blackened redfish, and cornbread. He would also have a playlist of "good-time music" that features jazz, gospel, brass band, and hip hop. He wants this time to be a joyful occasion. 
"I'm a celebration guy," Dook said. "If I'm going, I'm going to have fun." 
To get Dook's recipe for Creole Gumbo, visit here. For other Corporate Realty recipes, visit our site. To find out more about how Corporate Realty can assist you with your commercial real estate needs, please contact info@corp-realty.com or 504.581.5005.