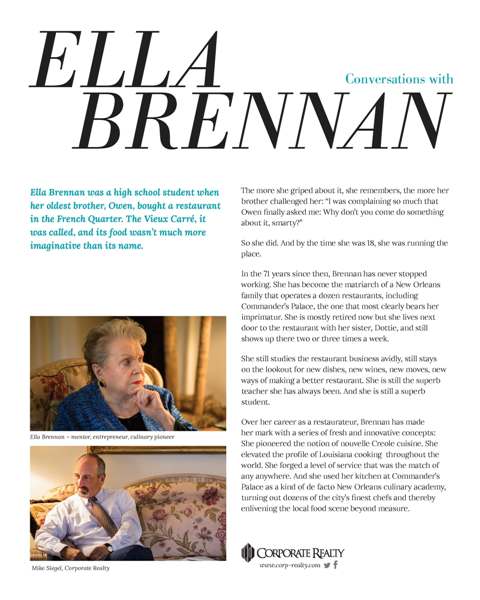 Business lessons, and life lessons, can sometimes be learned from unexpected sources. When we were thinking about our 2015 marketing mailers, we once again wanted to focus on food (as always) and on a person or a restaurant in New Orleans that we felt exemplified the commitment to excellence that we strive for every day in our business. We immediately knew that Ella Brennan and Commander's Palace were the ideal fit. Ella personifies excellence. She is the quintessential restaurateur and New Orleanian, and she has been a civic leader for over 50 years. What we did not know is that Ella would have so many business lessons for us: her focus on teamwork, her non-stop desire to innovate, and the importance she places on family and community at all times in each restaurant.  Ella Brennan is more than one of the great restaurateurs of our generation. She is a business and community leader who at, 89 years young, still has the drive, the intellect, and the passion to teach us all about business and about life.
At Corporate Realty, we continually strive for excellence and innovation, to provide great customer service, and to give back to the communities in which we live and work. While the nuts and bolts of what we do is help people and companies with their commercial real estate needs, our larger role, and one which we take seriously is to be productive and giving members of society.
With this in mind, we hope you will enjoy this year's monthly mailers. We will continue to post an overview of our transactions and new assignments every month along with observations from Ella Brennan and interviews and recipes from several of the world-class chefs who have come through the Ella Brennan/Commander's Palace kitchen.
We hope you enjoy these monthly mailers.