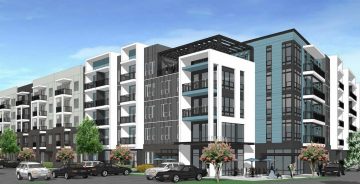 The Metro at Clearview, a Class A, 270-unit multifamily development, broke ground today at the Clearview City Center. This is the latest step in a redevelopment of the retail center into a mixed-use property that includes an 185,000 sf Ochsner Health Clinic currently under construction, Target, AMC Movie Theater, retail shops, restaurants, and more. Jonathan Fawer represented the owner/developer, Audubon Communities. 
Once completed, the more than $55 million residential community will feature 246,787 rsf of one, two, and three-bedroom apartments designed in a wrap-around style and situated on the rear parcel of Clearview. Metro at Clearview includes amenities such as courtyards, a swimming pool, a fitness center, a Sky Lounge, and a catering kitchen and 2,000-square-foot clubroom with multiple seating and entertainment areas. 
Audubon is an Atlanta-based company founded in 2003 that specializes in the acquisition, development, repositioning, and management of multi-family properties.  The firm manages approximately 6,000 apartment units throughout Georgia, the Carolinas, and Louisiana. This is the most recent commitment to developing the rental community in New Orleans; the firm also owns American Can, where Corporate Realty represents retail leasing efforts. Jonathan thinks this new development will be an important residential addition. 
"The Metro will be the 'best in class' apartment complex built in Jefferson Parish and will be on par with recent downtown apartment complexes," Jonathan said.
For more information on how Corporate Realty can assist with your real estate needs, please contact Jonathan Fawer at jfawer@corp-realty.com and 504.581.5005.