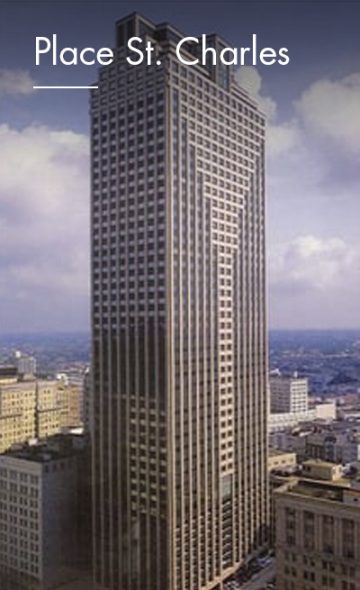 Jones Walker LLP, one of the largest law firms in the United States, has recently renewed its lease at Place St. Charles into the next decade. Bennett K. Davis, Director of Leasing for Place St. Charles and a Corporate Realty broker, represented the landlord in this renewal.
Founded in 1937 in New Orleans, Jones Walker moved its headquarters into Place St. Charles in 1985 as one of the original tenants. Today it is the largest tenant in the building, occupying more than 151,000 square feet on the top six floors. According to a press release by Place St Charles, this lease renewal signifies a long-term commitment by Jones Walker to not just the building but the city and the Central Business District.
"Our law firm started in Downtown New Orleans 85 years ago and, for the past several decades, Place St. Charles has been a welcome place for Jones Walker to prosper and grow,"  said Bill Hines, Managing Partner, in the press release.
With more employees returning to the offices, office buildings like Place St. Charles are vital for drawing commerce and investment to the downtown area.
"After such a long period of so many professionals being siloed through remote work, it's encouraging to see the office market coming, back now buoyed by Jones Walker renewing all of its space in Place St. Charles," said Davis. "As our premier office spaces remain hubs for collaboration, innovation and networking, it's exciting to see this kind of continued investment in the communal work environment that has led to so much growth and development in the city. We're pleased to have such a long-standing relationship with Jones Walker. Their commitment to Place St. Charles and the city demonstrates the investment top tier businesses are making, keeping downtown New Orleans the main hub for business and economic activity for the foreseeable future."
Place St. Charles was completed at the end of 1984. According to the press release, tenants have easy access to the city's largest banks, corporate offices, and government facilities, and courthouses as well as walkability to the French Quarter and Warehouse District entertainment centers and residential communities. With more than one million total square feet of Class A rental space, several restaurants and retail spaces with shopping, banking and personal service providers, Place St. Charles offers tenants immense flexibility and draws visitors and residents to shop and dine daily. For more information on the building and available space, please visit www.placestcharles.com. To learn how Corporate Realty can assist with your commercial real estate needs, please visit corp-realty.com or call 504.581.5005.