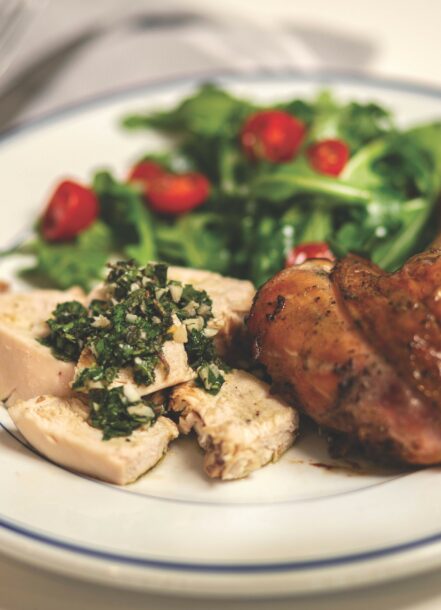 Home-cooked meals too often have been considered a luxury. In pre-coronavirus, fast-paced, daily life, food shortcuts helped us meet other obligations. We smeared avocado on toast for our children as we hustled them out the door to school and ordered takeout after staying late at the office.
In these past few weeks, however, cooking has become a necessity. It's also become a creative outlet. As more restaurants closed, we began experimenting, trying to recreate that beloved mac and cheese or favorite gumbo. Even a box of farmer's market produce could serve to inspire. We've had fun discovering, or rediscovering, the joy of cooking.
Retail broker Richard Weber has always enjoyed cooking; in fact, he cooks five to six nights a week. It allows him to spend quality time with his family —a wife and two sons under age five—and friends. While recipes provide guidelines, he adds to those by experimenting with what he has on hand, creating a rub of equal parts Dijon and honey combined with parsley, rosemary, and thyme cut from his garden for a pork loin roast or using self-rising cornmeal found in the pantry to batter and lightly fry red fish caught earlier in the day.
Take his spatchcock chicken with chimichurri sauce, which Corporate Realty features this month. He makes the chimichurri using more fresh herbs from his garden and a mixture of vinegar and olive oil. It is a piquant sauce that originated in the beef-rich country of Argentina, but Richard thinks the blended ingredients complement the smoky chicken. 
He also finds perfect combinations in his work. "Preparing a meal is parallel to helping a client achieve a goal. Both require some standard ingredients and a series of progressive steps for the desired outcome. However, within those guidelines, there is room for innovation—that extra dash of something, that creative solution," Richard said. He feels fortunate to be a part of a team of talented, dedicated professionals who approach both work and food with the same passion and creative energies.
As we approach life in the new normal, guidelines will be helpful in setting goals and measuring progress. Let's keep room also for innovation, not to mention a few more home-cooked meals.