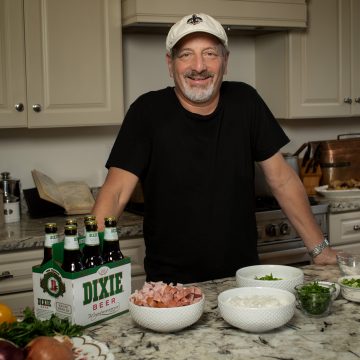 In a year of massive storms of all kinds, it comes as no surprise that the final day of 2020, at least for those of us in many parts of the country, promises snow, ice, rain, and cold temperatures. It's as good a weekend as any to cozy up inside, possibly finalizing those annual New Year's resolutions, packing away decorations, watching the bowl games, or getting lost in the newest novel.
It's also a perfect weekend for making a big pot of gumbo – although according to Mike Siegel, whose recipe we feature, it's always a good time to make gumbo to share with family or friends. His recipe relies on homemade chicken stock, which should be made at least one day in advance but is key to providing the rich flavor. Then it's an aromatic day of dicing, stirring, and simmering to bring the ingredients together for the delicious, quintessentially Creole comfort dish. Feel free to add your own touches as you go along, and be sure to season to your taste.
"Everyone creates a unique gumbo," Mike said. "You can put in what you want, and you can choose how dark or light you make the roux. No two gumbos are alike, and that is what makes it fun to cook."
Mike, the president of Corporate Realty, has been in commercial real estate for more than 30 years. To him, each day is as unique and fun as that pot of gumbo. The work is filled with creative possibilities and great people, and finding the right solution for a client is like finding the essential ingredient, all for a satisfying result.
We at Corporate Realty wish you a new year filled with essential ingredients, for both good food and good health, and a renewed sense of hope.
For other Corporate Realty recipes, visit here. To find out more about how Corporate Realty can assist you with your commercial real estate needs, please contact info@corp-realty.com or 504.581.5005.