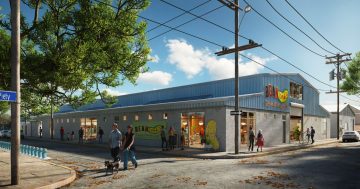 A former furniture warehouse in the the Bywater will be the new home of the Krewe of Red Beans. Hayden Wren III, CCIM, SIOR, and Austin Lavin, CCIM, represented the owners of 3300 Royal St. in New Orleans in the sale of their property to the Krewe, while Andrew Sheppard of Crane Real Estate Brokers, Inc., represented the Krewe in this transaction. 
The Krewe plans on transforming the 25,000 sf factory in the heart of the Bywater into a clubhouse called Beanlandia. It will be a bean museum where musicians perform, carnival costumes are crafted, and lectures, workshops, and other special cultural events are hosted.
3300 Royal St. was owned and operated for decades by members of the Giordano family. Originally they made cedar chests on site, and more recently they used the site for distribution of furniture that they sold throughout the region. 
David Giordano said, "As rookies in the commercial real estate business, we were so fortunate and glad to have Hayden and Austin on our side.  They are true professionals and good men. It was a long and winding road and couldn't have done it without their expertise, knowledge, understanding and patience. We are excited to see our property, which is now Beanlandia, being transformed into a hub for the entire Bywater Community to enjoy.  We wish Devin [De Wulf, the Krewe's founder] and the entire Krewe of Red Beans the best of luck!"
For more information about this project and to support the Krewe of Red Beans, visit here. For more information on how corporate realty can help with your commercial real estate needs, contact info@corp-realty.com and 504.581.5005.
Image courtesy Krewe of Red Beans, 2021.