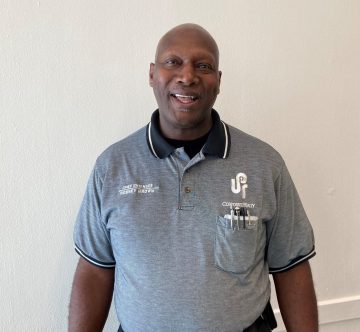 While Corporate Realty takes great pride in its ability to lease, sell, and manage properties, none of it would be possible without the hard work of our engineers. For our next Employee Spotlight, we are thrilled to recognize Rodney Brown.
Rodney is the chief engineer for the Union Passenger Terminal (UPT) located at 1001 Loyola Ave. UPT serves Amtrak, Greyhound Lines, and Megabus and is used by hundreds of passengers daily. As the chief engineer, Rodney supervises the maintenance and operations of the facility and ensures that the terminal remains open to the public. This entails plumbing, electrical, heating and cooling and everything in between. "We will do whatever we need to do to keep the wheels spinning!" Rodney said. 
Rodney has been with Corporate Realty since 1982 when he began as a security guard at 1010 Common. Due to his hard work and close attention to detail, Rodney quickly rose to become the security supervisor at 1515/1555 Poydras before transitioning to Canal Place. At Canal Place, Rodney decided to pursue engineering and has been an engineer for more than 20 years, 18 of which have been at UPT. 
What Rodney appreciates most about Corporate Realty is that it has always made it possible for him to spend time with his family. "I never missed a game," Rodney said about his children's sports teams growing up. "I couldn't have asked for a better ride."
One of Rodney's greatest passions is football. His love of the sport began as a young boy while watching Super Bowl V. He vividly remembers the Baltimore Colts edging out a victory over the Dallas Cowboys in the last five seconds of the game with a field goal by rookie kicker Jim O'Brien. In addition to football, Rodney enjoys woodworking and has built all manner of furniture over the years, including desks for his children and a china cabinet for his mother. 
Above all, Rodney's greatest passion is his family. He has been married to his wife, Donna, for 25 years and has four children: Cedric, Lauren, Rodney Jr, and Desean. Donna, a veteran of the U.S. Navy, currently works for the USDA. Rodney has also been involved in church youth groups and takes great pride in seeing the successes of the many young men he has mentored over the years. 
Like many New Orleans natives, Rodney enjoys red beans and rice and seafood. He used to cut out recipes from The Times-Picayune and became quite fond of a chicken masala dish. Rodney also has a recipe for chicken marengo that we highly recommend; it was featured in Corporate Realty's 2020 marketing transaction and recipe series, "Home Cooked Talent." 
We are enormously grateful to Rodney and his four decades with Corporate Realty. His ambition, work ethic, and dedication have made him a major asset to the company, and his kindness and humility make him a joy to work with. On behalf of the Corporate Realty team: thank you, Rodney!