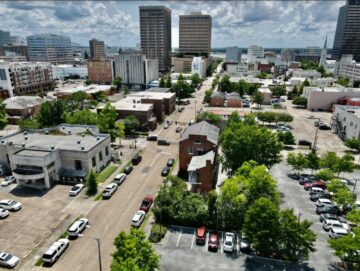 Since opening in July 2022, Corporate Realty's Baton Rouge office has handled nearly 100,000 square feet in lease and sales. We continue to expand our portfolio of office, retail and industrial properties within the Capital City and surrounding regions.
Our Baton Rouge team, Branon W. Pesnell and Walter H. Ketchings III, currently represent owners at several premier Baton Rouge buildings including One American Place at 301 Main St., 5420 Corporate Blvd., LA Capitol Federal Credit Union Building at 700 Main St., Warden House at 703 Laurel St., 4000 S. Sherwood Blvd., American Way at 3854 American Way, Bluebonnet Centre, and Highland Plaza Shopping Center as well as free-standing industrial buildings. Pesnell and Ketchings have more than 30 years of combined experience in office, retail and industrial leasing and brokerage, property management, lease administration and investment brokerage.
"Our extensive knowledge of the Baton Rouge market and diverse experience in all areas of commercial real estate has helped pave the way for a successful start," said Pesnell, who is head of the Baton Rouge office. "Our ability to deliver creative solutions to complex real estate matters lends to the progress we have achieved in the last eight months. We are optimistic about the opportunities that lie ahead."
For commercial real estate needs and information in the Greater Baton Rouge area, please contact the team at 225.228.3750.