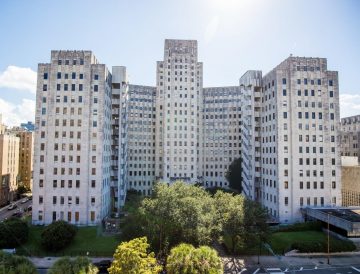 Tulane University announced on November 29, 2021, a new phase in the redevelopment of the former Charity Hospital. Corporate Realty is pleased to have worked with and represented Tulane University over the past two and a half years in these negotiations, which will result in Tulane's academic and research institutions occupying nearly 350,000 sf, or one-third of the more than 1 million sf building. 
According to the university's press release, the redevelopment will occur in conjunction with developers 1532 Tulane Partners, Inc., and SKK Opportunity Zone Fund I. Charity, which has sat vacant since Hurricane Katrina in 2005, will be transformed into a mixed-use complex with apartments, educational institutions, retailers, and more. Tulane plans to create state-of-the-art spaces for research, teaching, and administration. 
Most importantly, this redevelopment serves as a prominent visual expansion of the university's investment in downtown New Orleans and an innovative medical corridor.  
"Corporate Realty is proud of its representation of Tulane in this important transaction," said Michael J. Siegel, SIOR, president of Corporate Realty. "Tulane has once again shown why it is not only one of the leading educational institutions in the country, but also one of the most important economic development and business leaders in our city. The Charity redevelopment will be the catalyst for additional growth and development in the medical corridor, and this redevelopment would not happen without Tulane's leadership and commitment."
To read more about the planned Charity redevelopment by Tulane, visit here. For more information on how corporate Realty can assist with your commercial real estate needs, contact us at info@corp-realty.com and 504.581.5005.

Photo courtesy Sophia Germer/nola.com (2021).