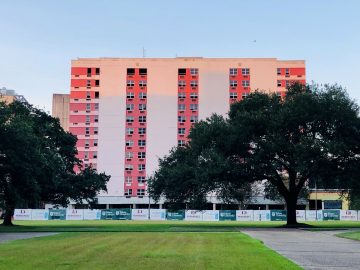 Construction has started on a $55 million project to renovate the former Warwick Hotel in downtown New Orleans into Tulane University-related housing and retail space. Corporate Realty represented Tulane University in signing a long-term lease with a purchase option with the property owner, New Orleans Redevelopment Fund, for the long-dormant building at 1315 Gravier St. 
On Wednesday, September 2, 2020, university and city officials hosted a groundbreaking that marked the start of construction and renovation. This twelve-story building is adjacent to the Tulane University School of Medicine. Upon estimated completion in August 2021, the building will feature 154 apartments for graduate students, faculty, doctors, researchers, and other individuals who want to live in the new medical district. It also includes ground-floor retail space with a full-service restaurant, grab-and-go food options, and patio and lounge seating.
This project not only increases housing options for the university and expands its downtown footprint, but more importantly plays a vital role in contributing to the overall economic and development revitalization of the area. According to a university press release, President Michael Fitts says Tulane's expansion into and integration with downtown New Orleans has the potential to be a significantly impactful development that can result in a "revitalized urban core that becomes a nexus for research, teaching, and overall economic development." 
Tulane occupies seventeen buildings in the downtown area, and this is the first of several projects planned for the Spirit of Charity Innovation District. Corporate Realty has represented Tulane in its recent lease negotiations and is committed to assisting in expansion and growth that will benefit the city in an area that encourages the development of jobs in biomedical research, healthcare, and other high-tech industries as well as a walkable residential neighborhood.
"Corporate Realty is proud of its long-term relationship with Tulane University, and we are especially pleased to have been part of this transaction. The renovation of the Warwick Hotel will be the first of several major developments by or for Tulane in this area, and we share both Tulane's and Mayor Cantrell's commitment to the revitalization of this part of our city," said Michael J. Siegel, President of Corporate Realty.
The Warwick Hotel was built in 1952 and operated until Hurricane Katrina. It sits directly across from Duncan Plaza and City Hall. Interior demolition and abatement began in March, shortly after Tulane University signed the lease. General contractor on the project is Hernandez Consulting & Construction, and the architect is Albert Architecture & SCNZ.