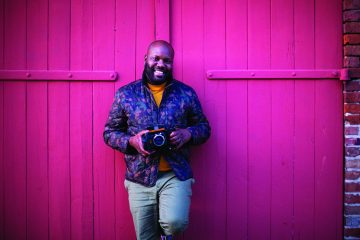 Many of us have been cooking at home much more than we ever did before March 2020. Prior to this time, we could easily find an excuse to just go to a restaurant—because we wanted a special dish, because it was Thursday night, because guests were in town, or because it was Sunday brunch. With the pandemic, our behavior had to shift. To create the dishes we were missing, we had to dig out our pots and pans, dust off the grill, and get down to it ourselves.
New Orleans is one of the culinary capitals of the world, which means delicious meals can be found at people's homes just as frequently as they are found in restaurants. L. Kasimu Harris, an artist, writer, and native New Orleanian, knows this well: both his parents cooked, providing a legacy of family dishes.  What began as a social activity for Harris and his wife, Ariel Wilson-Harris, became a necessity in 2020. As Harris cooked for sustenance, however, he realized he was connecting with his family's history, developing new skills, and ultimately providing a respite to being at home.
This month's recipe for Blackened Shrimp and Okra is inspired by Harris' mother-in-law and Bryant Terry's cookbook Afro Vegan. Try it out for yourself while reading his perspective on cooking at home.
For other Corporate Realty recipes, visit here. To find out more about how Corporate Realty can assist you with your commercial real estate needs, please contact info@corp-realty.com or 504.581.5005.