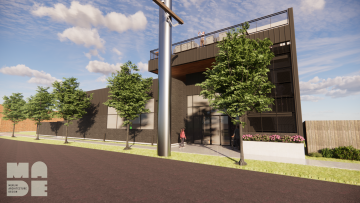 The state's first stand-alone pickleball-themed entertainment complex is opening soon in New Orleans' Lower Garden District. Austin Lavin, CCIM, represented NOLA PB, LLC in the purchase of two former warehouses at 2120 Rousseau St and 460 Josephine St. The owner is repurposing and revitalizing the properties in the heart of the St. Thomas Neighborhood into five indoor and one outdoor pickleball court.  By combining pickleball with a restaurant and rooftop bar concept, the tenant, The Exchange, LLC, a women-owned business, will create a destination venue for tourists and locals alike.  Groundbreaking is scheduled for January 2022, with a projected opening in the third quarter of that year.
Pickleball is the fastest-growing sport in the country that combines elements of badminton, tennis, and ping-pong.  The learning curve is quick, and it appeals to a wide range of ages and abilities.  Founded in the mid-1960s as a backyard sport in Bainbridge Island, Washington, the sport has now grown to include 37 countries, professional championships like the U.S. Pickleball National Championships in Indian Wells, California as well as the New Orleans' annual Big Easy Tournament.  The sport will satisfy locals and tourists alike. 
Renée Melchiode, the property owner, developer and newly minted pickleball enthusiast, is thrilled to expand the sport within the Greater New Orleans area. "Austin has been a great partner in this process. His market knowledge was crucial in acquiring the site for this exciting new venue, and we look forward to seeing him on the pickleball courts soon," she said. 
Learn more about The Exchange and Pickleball here.
To learn how Corporate Realty can assist with your retail real estate needs, please contact Austin Lavin at alavin@corp-realty.com and 504.581.5005.