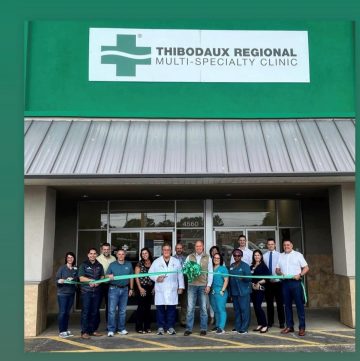 On April 23, 2021, Thibodaux Regional Health System opened a multi-specialty clinic in an 18,000 sf commercial space in Sugarland Shopping Center. This thriving retail center is located at the intersection of Hwy 1 and Rte 90 in Raceland, a community that is part of the Houma–Bayou Cane–Thibodaux Metropolitan Statistical Area. Austin Lavin, CCIM, represented the landlord in the transaction. 
Greg Stock, CEO of Thibodaux Regional Health System, spoke via an online announcement to say that the medical system was pleased to establish a permanent location to offer specialty care for the community. More than 33 doctors and specialists have joined Thibodaux's staff in the past year, increasing the capacity to offer quality health care in the region. This clinic's staff includes a neurologist, pulmonologist, and oncologist as well as orthopedics. State-of-the-art technology machines can run diagnostic imaging, and there are private rooms dedicated to providing additional virtual consults with off-site professionals. 
Austin said he is pleased to have played a role in assisting Thibodaux Regional to find room for growth. "We're excited to have the Thibodaux Regional join other great tenants like Rouses, Autozone, AT&T and Popeyes at the Sugarland Shopping Center in the heart of Raceland. We have limited availability remaining, an outparcel and an inline space, and we're looking forward to filling them with more great tenants soon."
To learn more about Sugarland Shopping Center, please contact Austin at alavin@corp-realty.com and 504.581.5005.