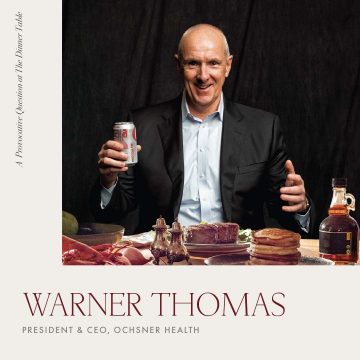 Warner Thomas, the President and CEO of Ochsner Health, leads a healthy lifestyle. That includes exercising daily and eating right.  However, for special occasions—and a last meal—he enjoys a steak with roasted vegetables and a salad, and delicious fresh seafood. 
"I'd also have pancakes, which I never really eat anymore," he said. Growing up in Vermont, Thomas often helped collect the sap to make syrup. As a child, one of his favorite dinners would occur during a cold winter night during which homemade pancakes were served with butter in addition to homemade syrup. 
Today the syrup would be an organic bottled variety from a Vermont farm, but he'd still savor the taste of room-temperature syrup over warm pancakes, enjoying the memories conjured by that taste. Be sure to try out the recipe for pancakes yourself. 
For other Corporate Realty recipes, visit our site. To find out more about how Corporate Realty can assist you with your commercial real estate needs, please contact info@corp-realty.com or 504.581.5005.