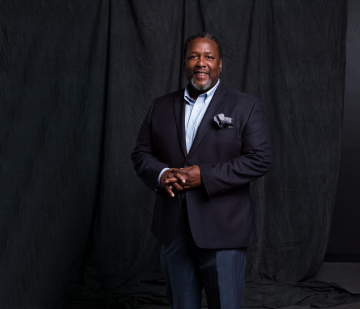 Wendell Pierce is an actor well known for such roles as  Det. Bunk Moreland in The Wire and trombonist Antoine Batiste from Treme. To portray Batiste, Pierce had to learn to play the trombone—but he already knew by heart the soul and spirit of his native city, New Orleans. From attending high school with Wynton Marsalis (Pierce also played trumpet, for about two weeks) to growing up in the historic Pontchartrain Park neighborhood, Pierce's roots are here, with the people, the music, and most importantly, the food that make up his beloved hometown. 
This month we are privileged to share Pierce's mother's recipe for Smothered Okra. The dish consists of the Cajun "holy trinity", freshly caught shrimp, flavorful sausage, and that Southern garden staple, okra. For Pierce, this  dinner perfectly captures the taste of New Orleans, which is where he would return for his last meal. 
On September 19, 2022, Pierce will star in Arthur Miller's definitive play, Death of a Salesman. He reprises the role of Willy Loman, which he also played in London, and in doing so becomes the first black actor to portray this character on Broadway. We hope you will take the opportunity to check him out in this production, and also to make his mother's dish. 
For other Corporate Realty recipes, visit our site. To find out more about how Corporate Realty can assist you with your commercial real estate needs, please contact info@corp-realty.com or 504.581.5005.