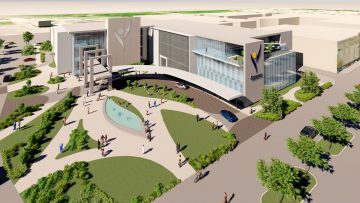 Ochsner will be expanding its Metairie presence by opening a 185,000 sf "super clinic" in the  former Sears space at Clearview Center. Ochsner CEO Warner Thomas shared that the three-story clinic will emphasize outpatient service and care and is expected to open in late 2022 or early 2023.
Ochsner's clinic will provide a range of health services, including neurology and brain care, behavioral health, a medi-spa, and more. It also enables Ochsner to provide an important health destination for Jefferson Parish while ultimately creating 300 new jobs for healthcare professionals. Corporate Realty's Andrea A. Huseman, CCIM, represented Ochsner in this negotiation.
"This is a huge win for both Jefferson Parish and for Ochsner, and is a great testament to the Richards family. Corporate Realty is proud of our representation of Ochsner in this transaction, and it was a pleasure to work with our colleagues at SRSA and with the Richards family on bringing this important addition to Clearview City Center.  We are committed to the continued growth and development of both Metairie and New Orleans," Siegel said.
Ochsner and its new facility are key components to the planned redevelopment for the corner of Veterans Memorial Boulevard and Clearview Parkway. The dynamic and renamed Clearview City Center will become an open-air, mixed residential and commercial site. According to Thomas Richards, managing member of Richards Clearview which owns the mall, the redevelopment will also feature Regions Bank, a hotel, apartments, and additional restaurants. These will join existing tenants Target, Bed Bath & Beyond, AMC Theatres, and Zea Rotisserie. The investment is estimated at $100 million.

For more information on how Corporate Realty can assist with your commercial real estate needs, please contact us via email or at 504.581.5005.
Rendering courtesy Clearview City Center.