Corporate Realty has served as real estate consultant in the selection process on behalf of the Convention Center.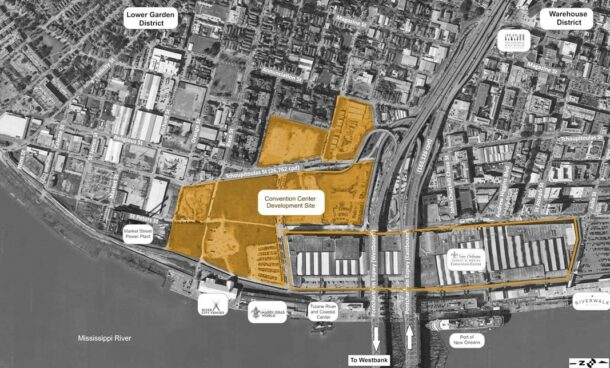 The New Orleans Ernest N. Morial Convention Center has selected a developer for a new, 47-plus-acre mixed-use neighborhood. 
River District Neighborhood Investors, LLC,  a group led by Louis Lauricella, was approved in a vote on March 24, 2021, by the Convention Center's board after being recommended by a selection panel who heard proposals from the two final groups. 
Corporate Realty facilitated the selection process on behalf of the Convention Center. It began in 2019, when requests for qualifications (RFQs) were sent out in September and an initial presentation of five master developers occurred in November. Based on those presentations, requests for proposals (RFP) went out to the finalists in December 2019. The planned final presentations were to occur in March 2020 but were postponed to this week due to coronavirus. 
"Corporate Realty is pleased to have been the real estate consultant for the Authority at the Convention Center for the last several years, and we look forward to working with the Authority and the Lauricella-led group to help all parties realize their collective vision for this site," said Michael J. Siegel, President of Corporate Realty. "It's another case of Corporate Realty involved in some of the most important, complex, and transformative commercial real estate projects taking place in New Orleans, and we look forward to seeing this development come to fruition."
River District's plan includes a pledge to invest more than $700 million to create 2.4 million square feet of housing, retail, entertainment and office space, which would in turn create 4,500 permanent jobs. They plan to begin with building residential communities and related amenities. Lauricella also announced on March 23 that he was under contract to buy the Market Street Power Plant and its seven-acre tract, which abuts the planned development area. Corporate Realty is representing the owner of the Market Street Power Plant property. 
For more information on how Corporate Realty can assist with your commercial real estate needs, please contact us via email or at 504.581.5005.