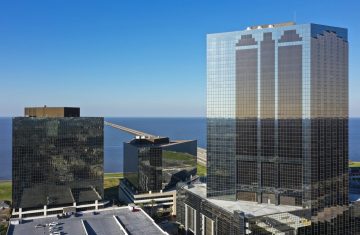 Lakeway Center, owned and managed by The Feil Organization and represented by Bruce Sossaman, SIOR, as the leasing director, leased 65,000 rsf to new tenants in a 150-day period, proving that the return of the office is on the right track with the superior location and amenities.
The Feil Organization is pleased to announce and welcome the following new tenants to their Lakeway office complex in Metairie: Brown and Brown Insurance, ClearChoice Dental Implant Center, EAN (dba/Enterprise), MS Benbow and Associates, Mediterranean Shipping Company, Poolson Oden, and the Society of Louisiana Certified Public Accountants.
ClearChoice is a new tenant to the Greater New Orleans area, Brown and Brown Insurance previously had an office in the New Orleans CBD, and all the other companies are relocating from other Metairie locations.
"With companies returning to their offices from COVID, we are seeing businesses look to upgrade their offices to provide greater amenities and a better work environment for their employees," Bruce said.
Colette Wharton, Regional Director/Asset Manager of The Feil Organization, added, "Lakeway's complex, consisting of three buildings of 1.22 million square feet of Class A office space, provides tenants with spectacular views of Lake Pontchartrain and the New Orleans skyline, direct access onto Causeway Boulevard and the Northshore, proximity to downtown New Orleans and the airport, plus numerous amenities and on-site management. We are pleased to have these new tenants join us at Lakeway and look forward to continuing to attract new businesses to our property."
To learn more about Lakeway Center, which has spaces ranging from 1,500 – 26,000+ rsf, or to take a tour, contact Bruce at 504.219.5842 and bsossaman@corp-realty.com.