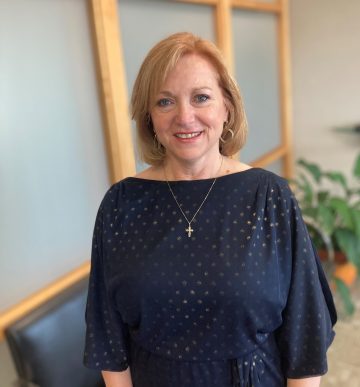 Corporate Realty prides ourselves on being in the center of it all, from the most complex transactions to the most significant deals. While our agents are often out in front, we couldn't accomplish all that we do without all the many members of our Corporate Realty family. While real estate is our business, we often say that food and people are our passion – so we'd like to take time to acknowledge these team members who are integral to our business and your success.
For more than 30 years, Wendy LeBlanc has been significant to the success of Corporate Realty. She joined the company as a receptionist at one of the Class A office towers managed by Corporate Realty, but her desire to take on new challenges and learn new skills lead to other opportunities. She received her real estate license in 2003. For the past 25 years, she has been the company's Graphics Administrator, compiling and generating exceptional resources and materials for the retail brokers.
The Regis GIS mapping software she uses provides marketing materials and demographics that are important to packages used by the retail team with clients when examining site selections. Wendy has fully immersed herself in the program, mastering how to manipulate the online parameters to deliver detailed, informative images. As a result, clients have used her maps and packages as the standard which they want other commercial real estate partners to meet.
Wendy prides herself on her work ethic, always willing to put in extra hours, tackle difficult tasks, and work diligently to meet deadlines. She appreciates knowing her hard work is integral in the formation of a deal and values the communication, comradery, and support in the retail department.  "We're like a family; everyone just gets along!" Wendy said.
Wendy is the proud mother of her 9-year-old son Landon, and is happily married to Kevin, her husband of 24 years. She feels most at home on the water and loves fishing and boating. She also loves watching reruns of Gilligan's Island and The Andy Griffith Show, playing Monopoly and Yahtzee, and bike riding. She is a devoted sports fan from the Saints on Sunday to watching her son play flag football and baseball. For Wendy, spending quality time with her family is important. "Being brought up in a large family, you learn to appreciate quality time and that family comes first," she said.
A New Orleans native, her favorite food is homemade gumbo with fresh seafood. Wendy is also partial to a good roast beef poboy, BBQ ribs, and chicken wings.
Corporate Realty is privileged to have Wendy LeBlanc on the team. Her hard work and dedication over the past 33 years is nothing short of exceptional. From all of us at Corporate Realty: Thank you, Wendy!