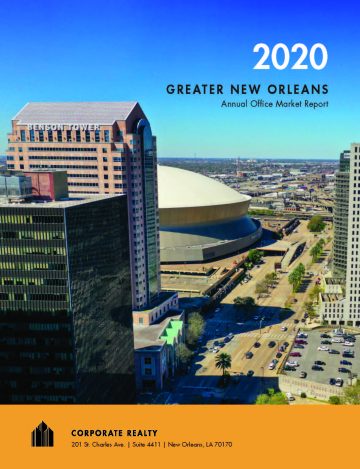 The 2020 Greater New Orleans Annual Office Market Report is now available to be downloaded. This is the ninth annual office market report, and it is compiled with the cooperation of property owners and their representatives. The resulting publication is intended to provide the reader with a broad understanding of the New Orleans office market as well as specific information about occupancy and rental rates of each office building that contains at least 20,000 rentable square feet (rsf).
This report provides a comprehensive overview of the office market in the greater New Orleans area from January 1 – December 31, 2020. In a year largely defined by a pandemic and companies encouraging their employees to work from home, there was little new activity but there was also very little giving up office space, resulting in a market that remained relatively flat. The office specialists' comments on the submarkets address that, and Corporate Realty, Inc. President Michael J. Siegel shares his thoughts about future trends. 
This year's report also introduces the feature of a special guest contributor. Michael Hecht, President and CEO of GNO, Inc., shares the Professional Jobs Plan. Attracting professional jobs to the greater New Orleans area was a priority even before the pandemic hit, and the described plan outlines steps that GNO, Corporate Realty, and other partners in the local business community are taking to advance this goal.
The Office Market Report is organized by geographic submarkets which contain occupancy and rental rate graphs that feature data from the past three years to illustrate both immediate and long-term change. The "Percentage Leased" column includes both 2019 and 2020 figures to easily show comparison between the two years, and overall market data from 2012-2020 reveals longer term trends. Click here to download the office report.
If you have any questions or would like more information about the Greater New Orleans office market, please contact one of the many Corporate Realty office specialists at info@corp-realty.com and 504.581.5005.