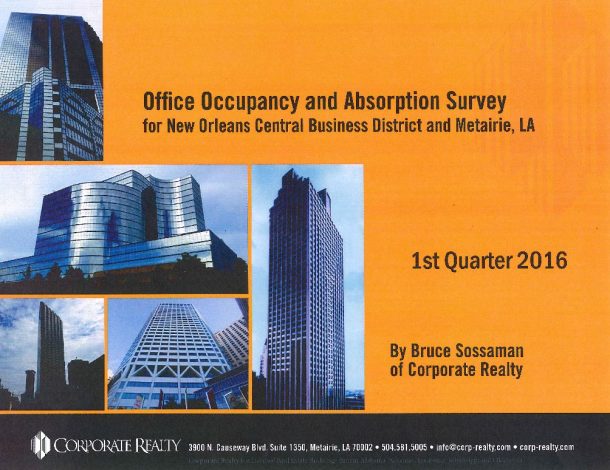 Corporate Realty is proud to publish this
1st Quarter 2016 Office Leasing Report
prepared by
Bruce Sossaman
, Leasing Director of the Lakeway Center and Broker Associate.
Bruce reports that in the first quarter the greater office market saw a positive increase in absorption of approximately 71,000 square feet, due mainly to the 108,000 square foot lease at Westpark Office Building to Children's Hospital.  Children's Hospital is leasing the entire building, which has been vacant since vacated by FEMA.  With the exception of the West bank and CBD class A CBD markets, all other office markets in the area saw negative absorption.  Occupancy in the greater market increased to 87.6% in the first quarter.
The CBD class A market realized 6,000 square feet of positive absorption (89.5% leased), while the CBD class B market saw negative 11,000 square feet of absorption (71% leased).  The Metairie Class A market had a small decrease in occupancy with 2,500 square feet of negative absorption (93% leased), and the class B market saw 24,000 square feet of negative absorption (89% leased).
The negative absorption in the Metairie market is mainly due to contraction in the engineering sector that serves oil and gas production; and the CBD contraction due mainly to BP claims business winding down. We expect the office market to be flat over the next few quarters.
To learn more about the New Orleans CBD and Metairie office markets, download this report, as well as our historical market reports, on our reports page.