Corporate Realty's 2019 Office Market Report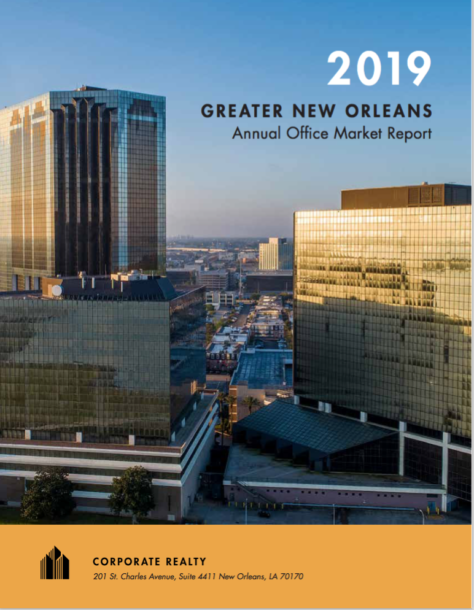 , now available, provides a comprehensive overview of the office market in the Greater New Orleans area through December 31, 2019. The 2019 Report, like the Reports published every year, is largely a look back at the status of the New Orleans office market in the previous year.  Data is compiled from December 31, 2019, and while most our office market specialists notes provide context for 2019, included are some comments about the year ahead. The information contained in this report was assembled well before the COVID-19 pandemic began to impact our lives.  As such, this Report  and our comments make no mention of COVID-19 or how this issue may affect our office market. Clearly, COVID-19 has impacted,  and will continue to impact,  the real estate market, including the office sector. Subsequent Corporate Realty email blasts and future Corporate Realty reports will address our thoughts on this important topic.
We publish this report to give the reader a broad understanding of the Greater New Orleans office market as well as specific information about occupancy and rental rates of each office building that contains at least 20,000 rentable square feet (rsf). With data from 2012 – 2019, this report offers a snapshot of the current market and analyzes market trends. Most graphs in this report feature data from 2017, 2018 and 2019 to illustrate both immediate and long-term change.
Click here to download the report.
Please contact one of the many Corporate Realty office specialists if you have any questions or would like more information about the Greater New Orleans office market.