We connect landlords and tenants in the Gulf South.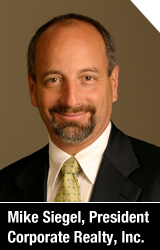 Corporate Realty combines a deep knowledge of our home Greater New Orleans market with a reach that includes Alabama, Arkansas, Louisiana, Mississippi, Oklahoma and Texas.
We understand that there are many decisions involved in real estate, but the first one should be to call Corporate Realty.
The agents of Corporate Realty have more than 100 years of combined real estate experience and are consistently involved in the largest, demanding, and most complex transactions in this region.
We bring our valuable experience and our extensive networks to every deal, and simply outwork others to get the job done.
Whether you need an opinion of value on a property in New Orleans, or an update on the depth of a geographic market; whether you need a property leased in Covington, managed in Kenner, sold in Baton Rouge, financed or re-developed; whether you need office tenant representation or retail tenant representation to find space in Mississippi; we are here to help you with any of your commercial real estate needs.
Call us today at 504.581.5005 to find out how we can help.