PRESIDENT'S LETTER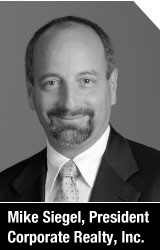 Welcome to Corporate Realty and Corporate Realty's website
Corporate Realty is a full service commercial real estate company headquartered in New Orleans that is licensed in Alabama, Louisiana, and Mississippi. We have been in existence for over 25 years and our predecessor company was in the commercial real estate business in New Orleans since the 1950s. While we are not the largest commercial real estate company in the region, we are confident that we are the most accomplished, most professional, and most knowledgeable firm in the Gulf South.
We are:
• Seventeen full time agents (average experience over 15 years)
• Three full-time senior property managers each with advanced degrees and/or special real estate designations (average experience over 20 years)
• More than 6.4 million square feet of both managed and leased assets
• Specialists in office leasing, retail leasing, investment brokerage, and development consulting
We at Corporate Realty also believe in the importance of being good "corporate citizens" and giving back to our community. Our brokers, managers, and senior management team give their time and money by serving on numerous boards and committees across the New Orleans area. This support and hands-on involvement says a lot about who we are . . . not just salesmen and property managers but business leaders who care deeply about the communities in which we live and work.
With this in mind, we look forward to having the opportunity to work with you over the next year.
Here's to a safe, happy, healthy, and productive 2020. to all of you.
President and Director of Leasing