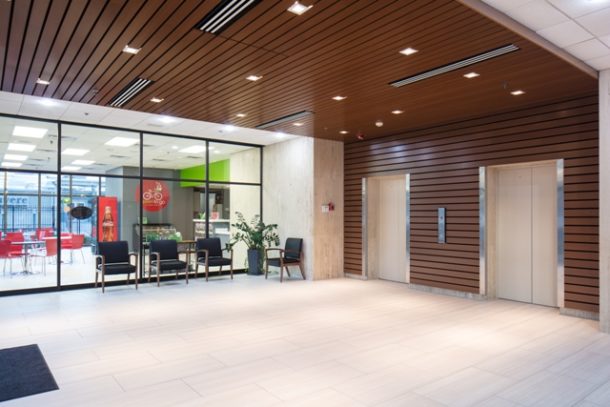 In September 2017, Corporate Realty, Inc. was recognized with a Hard Hat Award by Physicians Realty Trust, the owner of the Napoleon Medical Office Building. This award was given in acknowledgement of our outstanding, innovative management of the Napoleon Medical Office Building's recent capital improvement projects. These building improvements included a full lobby renovation, the installation of an exciting new retail tenant, and the construction of a new parking lot.
David Domres, Vice President of Property Management for Physicians Realty Trust, shared, "We appreciate the dedication of the Corporate Realty property management team at the Napoleon Medical Office Building in New Orleans. We are happy to recognize their expertise through the Hard Hat Award, which recognizes excellence, creativity, and leadership throughout the capital improvement process."
Corporate Realty's property management team received the award during Physicians Realty Trust's annual Management Summit, organized to discuss policy and procedure enhancements for their nationwide portfolio of medical office buildings. Physicians Realty Trust's portfolio (NYSE:DOC) includes 262 properties in 30 states, totaling over 12.5 million square feet.
Corporate Realty appreciates this recognition and is proud to continue our work alongside the Physicians Realty Trust team. Together, we can ensure that the Napoleon Medical Office Building is strongly positioned in the competitive New Orleans marketplace.