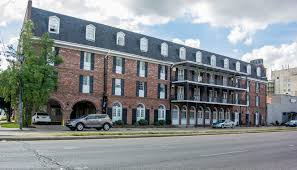 Be part of the transformation on Tulane Ave.
Andrea Huseman is offering a 102 room hotel/motel with a restaurant and meeting area for sale. This 56,000 sf building at 3900 Tulane Ave. is ripe for redevelopment. Built around 1969,the four story property also contains has over 50 surface parking spaces, a pool/courtyard area, outstanding visibility and frontage on Tulane Ave and a covered access way for easy loading and unloading. The area for the restaurant has a large kitchen and separate access way. Rooms are efficient and have great potential . Located near the VA and University Hospital, LSU Medical School and Tulane Medical School,Xavier University, near the central business district of New Orleans, new restaurants , wine and beer garden bars and retail and apartments in the mid-city area.
Call Andrea at 504.587.1450 to learn more.