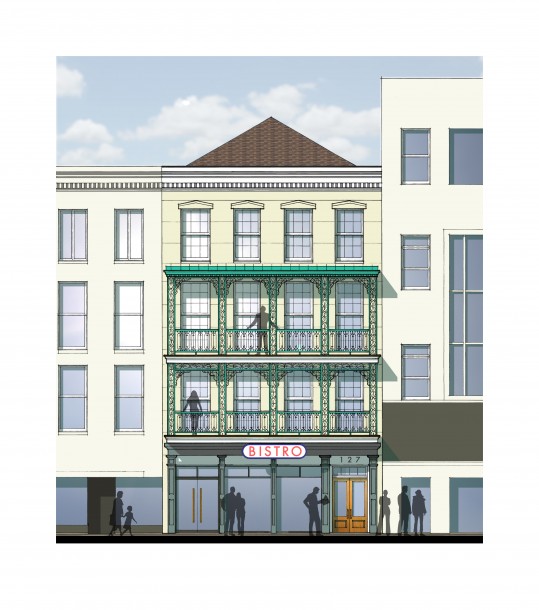 VOM FASS New Orleans is moving downtown to a new location at 129 Carondelet Street. The store, which offers exclusive cask-aged vinegars, exquisite oils, select wines, and spirits and liqueurs direct from the cask, is planning to open in their new location in the late summer of 2014. They will be occupying the first floor of Gallier Court, a redevelopment of the building that was formerly the home of the Gertler Law Firm.

Gallier Court is being developed by Basis Development, LLC and designed by Montgomery Roth Architecture and Interior Design. Plans call for approximately 7,500 square feet of apartment space on the top three floors of the four-story building in addition to the new VOM FASS store on the ground floor. Eight apartments are planned for the building and will range from 641-square-foot, one-bedroom layouts to 1,137-square-foot, two-bedroom units. Balconies will be added to the second and third floors, and bike storage space will be provided for residents. The apartments will be available for lease in the Fall of 2014.

Josh Gertler, the owner of Basis Development, LLC, says, "VOM FASS represents the very best of personalized, Old-world European shopping in this unique American city, and we are excited to have them in Gallier Court."

VOM FASS which has been in business since December 2009 on Magazine St. will be closing their Uptown location on Saturday, April 26.

The landlord in this transaction was represented by Keith Adler and Austin Lavin of Corporate Realty, and the tenant was represented by Shelly Wills of Basis Brokerage, LLC.