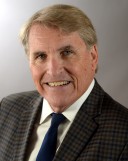 William (Bill) A. Moody
Broker Associate
Bill Moody has 30 years of experience as a real estate broker in both the greater New Orleans market and the Baton Rouge market, specializing in the representation of Institutional and private investors in the development, management, and leasing of their real estate portfolios. Previously as part of the Prudential / Ayrshire team in New Orleans, Bill had both Managing Director and Leasing Agent responsibilities for Poydras Plaza, an 11 acre multi-use development that included the Hyatt Regency Hotel, 3 Class A office towers, and an 11 story parking garage.
Besides Prudential Realty Group and Ayrshire Corporation, Bill has represented the Koll Company (Koll Bren Schreiber – KBS), iStar Financial Inc., Tri-Net/Whitehall (Goldman Sachs), Poydras Properties, LLC. and Equity Commonwealth. He has completed the largest lease transactions in New Orleans and the state, having represented the Landlord's in the negotiation of the 650,000 square foot Shell Oil in One Shell Square and the 400,000 square foot Entergy Corporation lease in the Entergy Building.
Corporate Realty is thrilled to welcome Bill back to the Corporate Realty team. As a long-term friend, collaborator and co-broker with many of the Corporate Realty agents, Bill will be a perfect fit for our hard working, highly accomplished team.
Bill's responsibilities will include representing Commercial Property Realty Trust in the leasing of the Bon Carre Business Center and the new Class A IBM building in Baton Rouge. Bill will also work directly with Mike Siegel to strengthen Corporate Realty's research capabilities.
Bill is married to New Orleans native Dee Bentz Moody. They have twin daughters, Katherine and Chandler, who both recently completed their undergraduate college studies
Bill is licensed in the State of Louisiana.