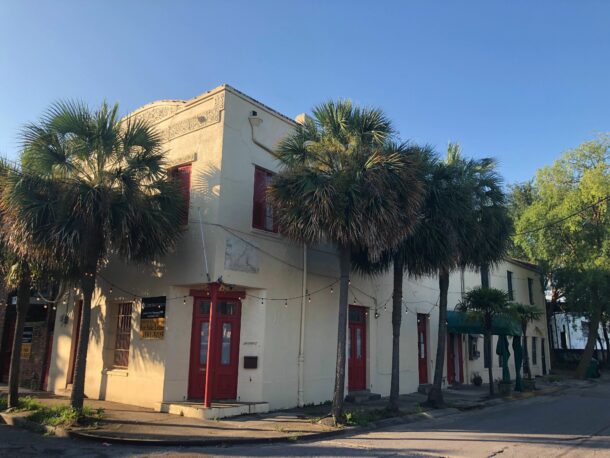 The former Feelings Café Bar and Courtyard, located at 2600 Chartres St. in the Marigny, is now available for lease or sale. Corporate Realty, Inc. represents the current owner in this listing, along with the multi-family property next door. This is only the fourth time in more than forty years that the restaurant has been for sale.
The 4,444 sf property is fully licensed and outfitted with furniture, fixtures, and equipment. These include all kitchen equipment, tables and chairs, and an alarm system. Naming rights are also available for sale. The adjacent multi-family property could be included as part of the restaurant purchase or sold separately. Located at 2604 Chartres St and containing 4,953 rsf, it has three furnished apartments and a large ground floor shop/workspace, available for either redevelopment or immediate leasing.
The buildings are in the heart of the Marigny, an area developed in the early 1800s by Bernard de Marigny from his family's farmland. Today brightly colored Creole cottages and shotgun houses, some of which are B&Bs, characterize the neighborhood, which also features a thriving music scene that includes the famous Frenchmen Street, as well as local restaurants and coffeeshops. It is less than half a mile to the French Quarter, with its historic hotels and award-winning restaurants. It is also adjacent to the Bywater neighborhood, home to the New Orleans Center for Creative Arts, the new 20-acre Crescent Park, office-warehouses, and more. 
Feelings Café opened in 1979 on Royal Street before moving to its current location in the Marigny. The building dates to a 1700s building owned by the de Marigny family. The restaurant's cloistered courtyard, overhung with palms, and the adjoining rooms evoked an elegant home and gave it the reputation for being one of the city's most romantic restaurants.
Scott Graf, CCIM, is one of two agents representing this restaurant. Graf is a native New Orleanian and former professional chef who celebrated his first wedding anniversary with his wife at Feelings.
"Growing up we always ate peanut butter pie at every holiday event.  The famous Feelings pie recipe was always part of the family.  I'm excited to have the opportunity to help bring this iconic location back to greatness," Graf said. 
Graf and Andrea A. Huseman, CCIM, are exclusively marketing the restaurant and the multi-family building. For more information or to tour the properties, please contact either Andrea at ahuseman@corp-realty.com or Scott at sgraf@corp-realty.com, or call them at 504.581.5005.
For more information on how Corporate Realty can assist with your commercial real estate needs, please contact us via email or at 504.581.5005.