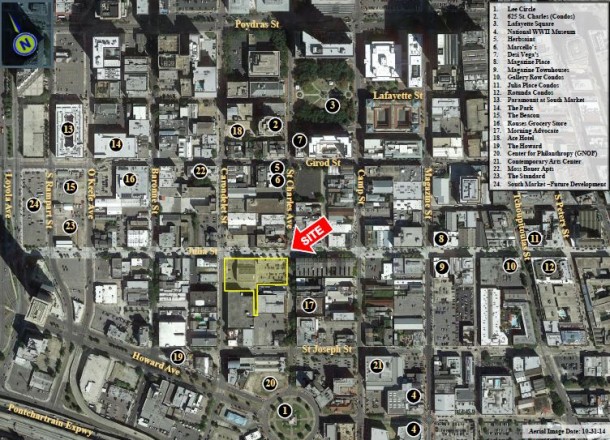 Commercial real estate agents Hayden Wren and Mike Siegel are offering a 1.465 acre site located at the southwest corner of St. Charles Avenue and Julia Street for a long-term ground lease. The property is principally rectangular in shape and fronts on three streets, St. Charles Avenue, Julia Street and Carondelet Street.  The property has two (2) historic-type buildings on its footprint: A two story building, the former United Motor Exchange Building, that has approximately 29,950 SF of gross building area, and a two story carriage house containing a total of approximately 1,050 SF of gross building area.
The property is zoned CBD-5 Urban Core Neighborhood, Lower Intensity, Mixed-Use District. Permitted uses include; office space, retail listings, restaurants, apartments, parking garage and many others. Hotel use is a conditional use subject to councilmatic approval.
Please call Hayden or Mike at 504.581.5005 for more information.