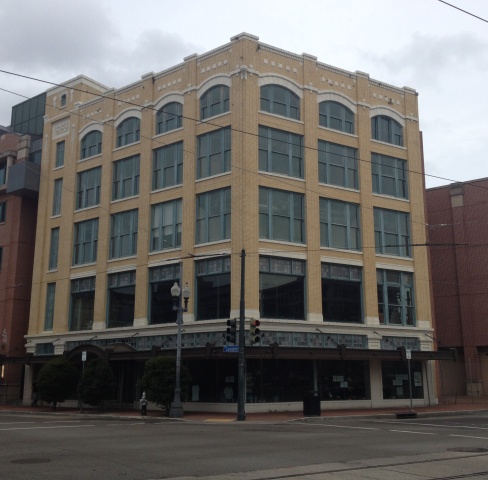 The property is a group of renovated (historic) and newly constructed buildings, and including all movable property located therein, that were developed over the past 10+ years by and for the non-profit Louisiana ArtWorks. Louisiana ArtWorks raised and/or borrowed and spent in excess of $25.0 million on these buildings with the intent to building and operating a concept to house artists' studios, offices, gift shop, teaching areas, entertainment areas, and other related art spaces. The project contains a total of 93,649 sf in a combination of 1, 3, and 5 story interconnected building. The project was renovated although certain elements were never finished.
The subject site's underlying zoning description is CBD-7; however, the subject is also burdened by a supplementary, Downtown Development Review Overlay Zoning. CBD-7 zoning regulations generally allow various commercial, residential and/or mixed-use development, and it allows for most all forms of development which would be reasonably proposed for construction upon the subject property. The Downtown Design Review Overlay (DDR) is a supplementary standard, and it is intended to encourage architectural and design continuity within a designated geographic area.
Please click here to see the Offering Memorandum.
Offering Process: All offerors should note the following and all offers submitted should include the following:
Once a prospective purchaser is selected, a Purchase and Sale Agreement will be negotiated that will provide  the prospective Purchaser with 30 days for Due Diligence for title and environmental only. All physical inspections and other Due Diligence must take place prior to the prospective purchaser being selected. Attached is a Disposition Timeline providing key dates and deadlines for the marketing and disposition process. The Disposition Timeline is an estimated timeline only and the Seller reserves the right, in its sole discretion, to extend (but not shorten) the Disposition Timeline as circumstances may require.
Also attached is a Letter of Intent (LOI) format that should be used by all prospective purchasers, provided, however, Seller also reserves the right to negotiate and modify the terms and conditions set forth in Marketing and Disposition Plan, continued the LOI and/or the purchase agreement. All offers must also include the following:
1. Letter of Introduction
This letter should clearly and succinctly explain your concept, why you are interested in this project, and your overall qualifications. Additionally, please include detailed information on your source(s) of equity and debt for this proposed acquisition and your proposed redevelopment.
2. Conceptual Plan
Profile your proposed development in a way you feel best illustrates your vision and ability to realize it, together with a timeline of your development process. In addition, a budget outlining the projected costs of such redevelopment, your sources of funds, and a general operating pro-forma is important.
3. Previous Experience
Please provide one or more examples of projects completed by your team and/or your team's members. Project descriptions should make it clear if a project was codeveloped and respective roles the developers/investors played. Remember to include the following: Name and location of the project and current status of the project; Size and cost of the project; Year started and completed; Role of the responsible developer(s)/investor(s); Photographs and drawings as necessary to properly communicate the project;
4. Structure and Description of your team
Please include in your description, a summary and resume of all key players on your team, the roles they will play, including contact information for each participant.
5. Public Purpose
Please include a very clear explanation of how your proposed project fits the Public Purpose definition and criteria defined in this Package, including a description of the arts-related public purpose, if applicable.
6. Letter of Intent
Please include a letter of intent using the template provided with this package.